Here you find more information about us and our idea of theatre work.

About us
The Theatre company florschütz & döhnert is based in Berlin, Germany, and tours around the world. Artists Melanie Florschütz and Michael Döhnert have been working together since 1996, the company florschütz & döhnert was formed in 2004: Melanie studied the art of puppetry in Stuttgart, Germany; while Michael is a composer, guitarist and singer.
At the centre of florschütz' & döhnert's productions is the idea of the actor as author. In their numerous productions for children they always seek a synthesis of music, the various means of expression of puppet and object theatre and human acting. The subject of the play determines the theatrical form it will take, always aiming for poetry and diversity.
Florschütz and Döhnert conceptualise and write their plays in a teamwork process with Wolf Dieckmann theatre painter, Adelheid Wieser, costum designer and the perspective of Joachim Fleischer light artist and director.
Artistic curriculum
Chronicle of productions
"Companies such as Florschütz & Döhnert have much to teach about the imaginative possibilites of theatre."
Sunday Herald, 16 May 2010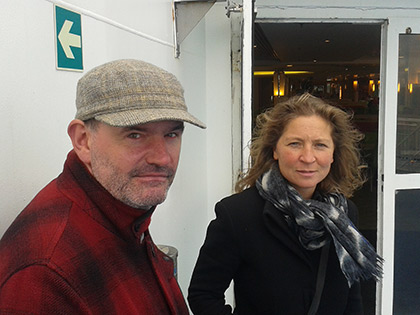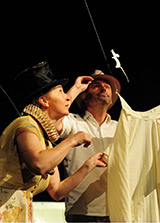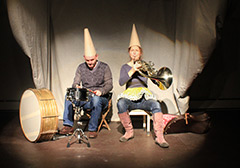 Theatre from the very beginning
Since 2004 the company has focused on developing plays for very young children of two years and up.
Ssst! (2012)
Mr & Mrs Sommerflügel (2010)
Rawums (:) (2007)
Hare Hare Moon Hare Night (2004)
florschütz & döhnert is an award-winning, internationally acclaimed children's theatre company.
Winner of the IKARUS Award (2008) for an extraordinary play for young audiences in Berlin with the show Rawums (:)
Selected as one of the best 10 shows of the years 2008-09 in the whole of Germany, at the 10th AugenblickMal! Festival in Berlin 2009
To read:
Why do you continue doing it
Melanie Florschütz in an e-mail interview with the journalist Barbara Fuchs
…and then the little child laughs
Published in: Theater von Anfang an! Bildung, Kunst und frühe Kindheit, Gabi dan Droste (Hg.), [transcript] Verlag
florschütz & döhnert are members of:
ASSITEJ, world association of theater for young audiences www.assitej.de
Initiative "Theater von Anfang an! Vernetzung, Modelle, Methoden: Impulse für das Feld frühkindlicher ästhetischer Bildung".Ein Projekt des Kinder- und Jugendtheaterzentrum der BRD im Jahr 2006 ausgerufen. www.theatervonanfangan.de
LAFT Berlin, Landesverband freier Theater www.laft-berlin.de
BUFT, Bundesverband freier Theater www.buft.de
florschütz & döhnert thanks for the support: